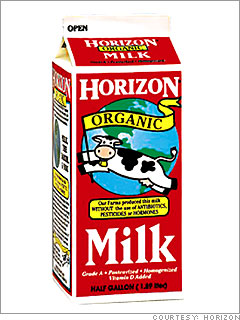 Giveaway….
Horizon Organic Milk…
Horizon Organic just launched a new line of their popular organic milk that in addition to containing calcium, vitamin D and 8 essential nutrients, incorporates DHA, a nutrient that supports brain, heart and eye health.

DHA is a healthy fatty acid that accounts for up to 97% of the omega-3 fats in the brain and up to 93% of the omega-3 fats in the retina. The thought is, the more DHA is consumed in the diet, the more is available to support healthy function in these areas and also the heart. (More info on the Horizon Facebook page)

According to pediatrician Dr. Alan Greene, "Most American kids are not getting the DHA they need. The typical three-year-old needs about 150 mg of DHA a day. On average, they are only getting about 19, mg, a tiny fraction of what they need for optimal brain growth."

Wanna try it? We're giving away 4 Horizon goody bags each including 5 free Horizon coupons (awesome!) and a Horizon t-shirt, sweatshirt, SIGG water bottle and more. To enter, comment below telling us if you already buy organic milk or if you're contemplating the switch before Thursday, March 3 at midnight EST. We'll choose a random winner and announce at the top of this post on Friday, March 4. Good luck. Those milk coupons are gold!!

Don't forget to "like" Horizon on Facebook. Tons of great info and even coupons from time to time.