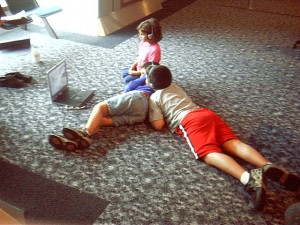 The American Academy of Pediatrics just made a new statement on kids and media. Here is a review of what they had to say.
Tips for Parents on Making a Family Media Use Plan:
Make a media use plan for your family.  
Write rules down,
Check quantity and quality of media, take a look at the location of your tvs, phones, and computers including tablets.
Location- no screens in kids bedrooms and have a "media curfew". Have a control center where all electronics get plugged in a night.
Excessive media use has been associated with obesity, lack of sleep, school problems, aggression and other behavior issues. Entertainment screen time should be no longer than 2 hours a day.
No screen time for children under 2 years of age.
Co-viewing programs with your kids and discussing values , look for educational media choices.
The Internet can also be a place where kids can run into trouble, keep the computer in a public part of your home.
Discuss the Internet Rules:
Discuss "digital footprint" with your children. Let them know that where they go on the internet can be remembered…nothing they do online is a secret.
Discuss Social Media:
Become familiar with popular social media sites like Facebook, Twitter and Instagram get your own accounts.
By "friending" your kids, you can monitor their online presence. Pre-teens should not have accounts on social media sites.
If you have young children, you can create accounts on sites that are designed specifically for kids their age.
Cyberbullying:
Good "digital citizens", discuss the serious consequences of online bullying.
If your child is the victim of cyberbullying, it is important to take action with the other parents and the school if appropriate.
Attend to children's and teens' mental health needs promptly if they are being bullied online, and consider separating them from the social media platforms where bullying occurs.
Sexting of any kind is not appropriate and remember the internet is NOT private.
Check out a sample "Media Time Family Pledge" for online media use.
How do you monitor your kids' screen time?
Additional Information: