Pregnancy at 24 Weeks
Your baby continues to grow:
He is about the size of an ear of corn
He weighs in at about 1 1/3 pounds
He is about 12 inches long
He still is pretty skinny and his skin is still almost see through, once he puts on weight that will change
His brain continues to grow quickly around this time in gestation
His lungs are developing their branches
He is beginning to produce surfactant that will help his air sacs to fill with air and inflate when he is born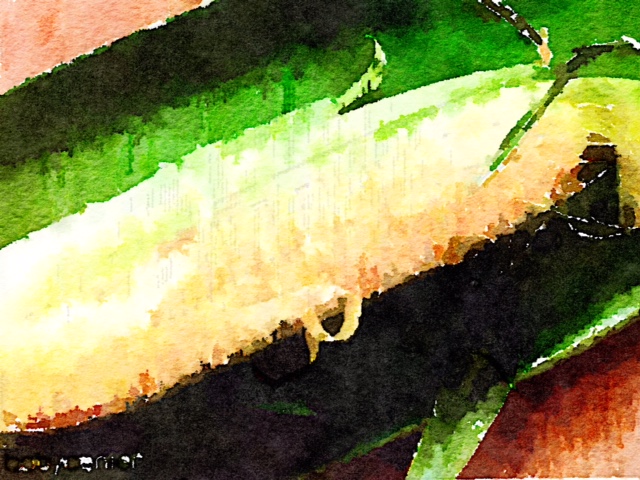 About now you should know the signs of preterm labor just in case:
increase in vaginal discharge or a change in the type of discharge, watery, mucus-like or bloody or blood tinged, pinkish.
any vaginal bleeding or spotting
cramping like menstrual pain
abdominal pain
more than 4 contractions in one hour even if they do not hurt
increased pressure in your pelvis
low back pain especially if you did not previously have back pain
Symptoms like the above can be normal and confusing but they should be checked out by your midwife or doctor. Contractions can be Braxton Hicks contractions which are normal and pelvic pressure and back pain can be normal too but always better to get your caregivers opinion before assuming that this is normal for you.
If you think that you are experiencing preterm labor call your practitioner right away without delay.
You will probably will be told to go to the hospital to get an assessment. Once you are there your contractions will be monitored as well as your baby's heart rate. You will probably have a speculum vaginal exam to determine if your membranes have ruptured. A swab of your cervix and vagina will probably be done and sent to the lab to check for infection. Another swab will be sent to check for a fetal fibronectin test.
This test analyzes your cervical and vaginal fluid for the presence of a protein that helps bind the amniotic sac to the lining of your uterus. Between 24 and 34 weeks, elevated levels of fFN mean that this "glue" is disintegrating ahead of schedule (due to contractions or injury to the amniotic sac). A negative result means that it's highly unlikely that you'll give birth in the next week or two, which can set your mind at ease and allow your practitioner to hold off on treatments that may prove to be unnecessary.
Preterm labor is always worrisome. Premies born between 34 to 37 weeks tend to do okay although they are still at risk for some long and short term problems. Babies who are extremely premature may have serious long term problems although there have been many advances in their care and survival rates.
Good prenatal care can help reduce your chances of preterm labor. So continue to be good to yourself and attend your appointments as scheduled.
Life changes during this stage of pregnancy:
Your uterus has grown and is now above your belly button and about the size of a soccer ball.
Glucose screening tests will usually be done between now and 28 weeks to check for gestational diabetes
If your test is abnormal you will have a glucose tolerance test to find out for sure if you have gestational diabetes.
Gestational diabetes can cause your baby to grow too large during pregnancy and make it difficult to deliver your baby vaginally. It also can increase your baby's risk for low blood sugar complications after delivery.
It is a time to learn about the signs of preterm labor and know that it is okay to call your doctor if you have questions about whether or not you are having symptoms of it. It may be good to make your own list of these preterm labor signs so that you can have them handy if you do have a question.
Continue to take care of yourself and enjoy your pregnancy.