Baby Development at 4 months and 3 weeks
It is so exciting to watch baby change and grow into a socially interactive little person.
At this age he is still crying to communicate his needs like hunger and "change me" but he's starting to show you his sense of humor when he laughs at surprises. He might like a quiet game of peek-a-boo where he will share some giggles!
He is now also enjoying various sounds. Try making noises for him like whistling or create your own animal sounds and see how he interacts with you. These are true moments of joy!
Learn more fascinating facts about your 4-month-old's baby development.
Encourage your baby's laughs, giggles, and smiles with funny faces and lots of general silliness. You don't need special toys or instruments to create them.
Source: Your 4-month-old: Week 3 | BabyCenter
Since it is winter there are germs around that cause RSV or respiratory syncytial virus. It starts with cold-like symptoms which can lead to ear infections, bronchiolitis (infection of the small airways), pneumonia or later development of asthma or other respiratory problems.
Many babies get RSV before they turn 2 years old but it can be more serious for babies under 6 months old with medical problems and premature babies whose immune systems might be weaker.
Symptoms of RSV in baby
Baby develops a mild
Cough gets worse over a few days
Breathing becomes labored
His nostrils may begin to flare when breathing
Excessive expansion of his rib cage
Tightening of his abdominal muscles
Grunting when breathing
Wheezing when breathing (High pitched whistling sound when breathing)
Quickened breathing (More than 60 breaths per minute)
Blush lips, nails
Feeding problems
If you suspect your child has RSV
Call you child's doctor
RSV is a virus so there is no antibiotics for it
However if your child is having trouble breathing the doctor may prescribe some breathing treatments
Keep him away from smoke and fumes
Keep him well hydrated
Cool mist vaporizer can help
Saline nose drops can help
Flu shots may be recommended in the future by your doctor
Baby development is slow and deliberate. It is like watching a tiny chick hatch from an egg. It seems to take forever for each little peck to crack the protective shell. Your baby is trying to tackle his environment with of course a little help from you.A
At times you might see him actually appearing to struggle. He might be trying to turn himself over at this stage, it will be a milestone task for him and when he finally accomplishes it he might actually surprise himself and maybe even give out a giggle. Think about how it felt when you actually rode a two wheeler bike for the first time, when you realized no one was holding you anymore. Your baby is experiencing those monumental moments now so let him enjoy them without too much if any assistance from you.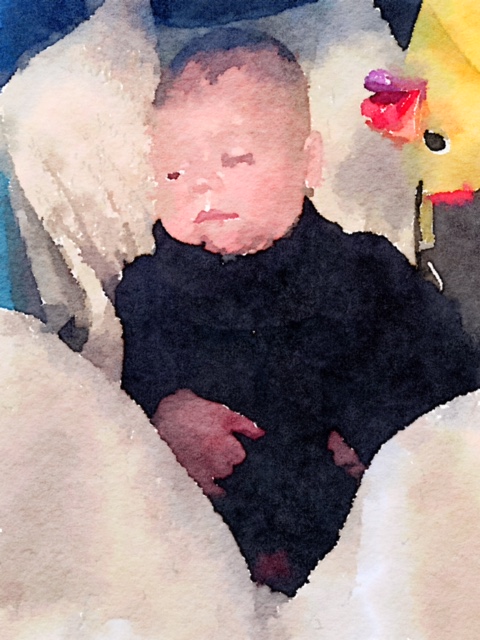 Enjoy the moments of baby development as they happen in real time right before your eyes. Try to tuck these memories away carefully like a fragile treasure so they can surface at a time in the future when he is all grown up but still feels like your 'baby'.