Is Breastfeeding always best?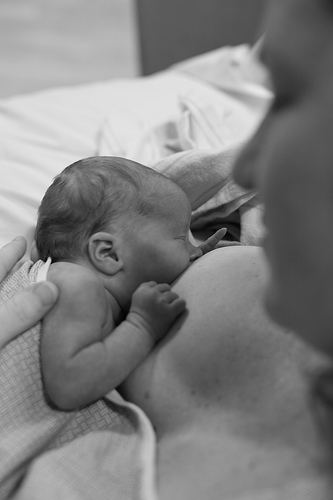 Breastfeeding is a hot topic among moms and also one which can usually ignite a "mommy war" of words and guilt. Breast may in fact be best from scientific evidence which I am not here to argue or interpret.
What I know as a mom, grandma, former mother-baby nurse is this.
If a mom wants to breast feed she deserves plenty of support because breast feeding is not always as easy as it looks. In fact, it can be downright frustrating and difficult for new moms who are dealing with a myriad of changes in their lives.
Non-judgemental support is essential. If you had a positive experience breastfeeding, I am so happy for you but don't impose your positive experience on another mom. Why? Because each mother/baby dyad is unique.
Early in my nursing career I took a LaMaze Certification with Elizabeth Bing, She was a guru of 'LaMaze' in NYC. Oddly to me, she was not a nurse, she was a physical therapist if I remember correctly. So in reality, she had not much experience with hands on labor and delivery and neither did many of her certification seeking students. For many students the only experience they had was their own successful 'LaMaze' childbirth.
At that time I had no children but I had assisted many laboring women and I had attended many deliveries. Some were great 'LaMaze' deliveries and others were not so much, these were the women that had epidurals, and or pain medication.
Back in the day, how a mom delivered was very judgmental, at least in NYC. Women who were taught LaMaze by Elizabeth Bing were very sad and disappointed if they gave in to medication or epidural. They were frequently devastated if they had a c-section. I felt it was my nursing responsibility to help each mom accept her childbirth experience and accept her healthy baby.
Because of my experiences prior to having my own children, I think it was easier for me to accept the facts surrounding my own childbirth stories. They were not 'natural', in fact one was an emergency c-section. To this day, I am grateful for a healthy child. I was simply in the right hospital at the right time. I did not choose to breastfeed for some personal and some medical reasons. With what I knew at the time this was the right choice for me and my children.
I hear so many comments about breast feeding nazi nurses that it makes me sad. A new mom should not be made to think that a nurse is pushing or demanding that she breast feed her baby. A gently approach to a new mom is so much more meaningful after just giving birth. So many times women feel that they are not in control once they step into labor and delivery and postpartum. This is ludicrous. These moms are going home with their babies. So lets quit the judgment at the Labor and Delivery door.
Here are two posts that really inspired me today.
There are truths in both writings.
Try to read them and not get judgmental.
It is kind of a test of two viewpoints.
Make up your own mind without anger and without pushing your beliefs on other moms.
Whether you breastfeed or formula feed, there's one mantra that's repeated over and over again: breast is best. You whisper it to yourself in the dark as the pain of those first latches washes over you, you repeat it to newly pregnant friends, and — if you use formula — you insert it into conversations as a buffer to ward off judgment from strangers. "I know breast is best," you utter mechanically, "but these are the myriad excuses why it wasn't right for me.

In a recent Op-Ed in the New York Times, Courtney Jung discusses new evidence that shows we've vastly overstated the benefits of breastfeeding, and it's having a detrimental effect on moms. Like most new moms, Jung was bombarded with information about breastfeeding as soon as she went public with her pregnancy. Well-meaning friends offered advice and strangers inquired as to how she'd feed her baby. Her birthing class even refused to do lessons on formula feeding because it's "against hospital regulations."
Source: Increasing Evidence Proves Breast Isn't Always 'Best' Scary Mommy
McKenna went on to say that Jung's conclusion was wrong."[Jung] is just plain wrong especially in light of new epigenetic studies that show in both human and nonhuman primates that breast milk significantly alters the human microbiome, setting in place, potentially, a lifetime trajectory of protections (or without it, vulnerabilities) to a variety of diseases and health in general. Moreover, how can we ignore that formula feeding is a risk factor for SIDS?"[Breast-feeding] is especially important for African-American infants whose mothers breast-feed at significantly lower rate than do whites contributing to the enormous survival disparity of black babies compared to white babies."
Source: Are We Becoming Overzealous About Breast-Feeding? : 13.7: Cosmos And Culture : NPR