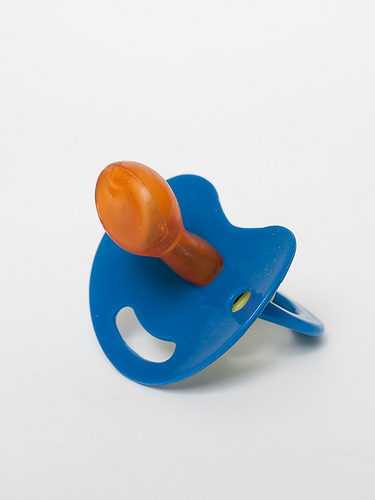 When your child's pacifier falls on the floor are you guilty of cleaning it by sucking on it yourself?
Well, no more guilt if this report in the Journal of the American Academy of Pediatrics is correct.
A small study was done to see if sucking on your child's pacifier may have benefits and the conclusions were somewhat positive.
Recently, it has been published that vaginal deliveries expose the newborn to certain beneficial bacteria that helps their immune system. Now this new evidence that exposure to parent's saliva may actually be a positive thing should make "germophobes" pause and rethink their position on depriving their babies from developing a certain tolerance to trivial bacteria.
These findings are interesting ones …and the human immune system is truly complex.
I will probably be rethinking the need to boil pacifiers and simply recommend running  them through the dishwasher or washing them with dish soap and hot water. I might even suggest to parents that every once in awhile they should expose their baby to their germs by sucking on their infant's pacifiers.
My personal approach to hygiene is to try to keep things relatively clean and not to expose my family to bacteria and microbes unnecessarily…I use Lysol and Purell but not to extremes. I know that Lysol is full of chemicals but I do not drink or inhale it so I think I am pretty safe.
Now the questions…what if your baby does not use a pacifier? ….and what if your baby sitter decides to suck on your baby's pacifier?
Well, there is no evidence to show that pacifiers should be sucked by anyone except the parents to provide any positive benefits so I would keep "pacies" away from other well meaning people and or pets.
And just maybe I would recommend a pacifier for all babies.
RESULTS: Children whose parents "cleaned" their pacifier by sucking it (n = 65) were less likely to have asthma (odds ratio [OR] 0.12; 95% confidence interval [CI] 0.01–0.99), eczema (OR 0.37; 95% CI 0.15–0.91), and sensitization (OR 0.37; 95% CI 0.10–1.27) at 18 months of age than children whose parents did not use this cleaning technique (n = 58). Protection against eczema remained at age 36 months (hazard ratio 0.51; P = .04). Vaginal delivery and parental pacifier sucking yielded independent and additive protective effects against eczema development. The salivary microbiota differed between children whose parents cleaned their pacifier by sucking it and children whose parents did not use this practice.

CONCLUSIONS: Parental sucking of their infant's pacifier may reduce the risk of allergy development, possibly via immune stimulation by microbes transferred to the infant via the parent's saliva.

via Pacifier Cleaning Practices and Risk of Allergy Development.

Sucking Your Child's Pacifier Clean May Have Benefits – NYTimes.com.