Leukemia is the #1 cause of death by disease in children, and, although commonly thought of as a childhood disease, is diagnosed ten times more often in adults.

via Jim Gibbons 5K.
As you know, I live in Chicago (area) and every year at this time there is a race that benefits Leukemia research in honor of Jim Gibbons, a beloved ABC news reporter here in the city of "Big Shoulders". He died of leukemia in the prime of his life.
This year, I was amazed when I listened to the race reports and learned that leukemia is still the # 1 cause of death by disease of children.
As the news reports echoed in the background…
a sudden a flood of memories came flowing through my head. I was a student nurse at NYU…it was my very first pediatric patient .
His name was Jeffrey, he was four years old, with a beautiful head of dark hair and the most captivating smile … he had AML…leukemia. The year was 1971 at Mt. Sinai Hospital in NYC.
He had been in the hospital for quite awhile, his mother and father stayed with him most of the time.
as I remember…he had his own little room with his very own gum ball machine.
Weekly for a whole semester I took care of him, bone marrow tests, blood draws, chemotherapy and losing his precious hair. He wore a Yankees baseball hat when he went out for a walk through Central Park with his mother or grandmother.
Another student colleague of mine was also assigned to him. Between us we gave him as much love and attention as we could and we supported each other knowing that his prognosis was grave.
In class one morning, my friend Rosemary told me she had been working the night before, when Jeffrey died…
four years old, he had spent almost 1/4 of his life at Mt. Sinai Hospital and lost his battle with leukemia. It was my first blow with the death as a nurse.
I cried for his mother, father and little sister and I cried for myself…
we could not save this precious little boy from this horrible disease.
His mother sent me a gracious note…I cherished it for a long time, with it she sent along a key chain…
a remembrance of Jeff…he had unlocked a part of my heart as a young nursing student…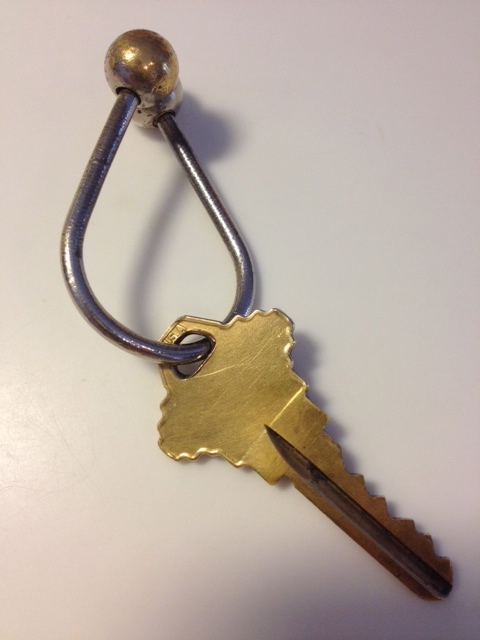 I still have that key chain and it has been constantly in use over many years and many moves. It hangs on a hook in my home with the key to my house, my heart and the memories of a little boy, who would be around 45 years old today …if we could have saved his precious life.
His mother had another little boy, I learned from my friend Rosemary…
I wonder how life turned out for them…I wonder if Jeff's mother knew how much I loved her little boy with the bald head, the Yankees hat and the beautiful smile…who stole my heart so many years ago.