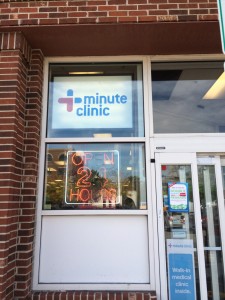 Thursday was flu shot day for me.
This year, I went to CVS Minute Clinic instead of getting my flu shot at work.  Hospital  policy makes it mandatory that all employees get a flu shot so that we do not expose our patients to the flu.
Minute Clinic was a new experience for me. Since my family is in the medical world, it has always been easy for me to drop by my doctor's office for a quick shot in the arm so to speak.
CVS simplified my Fall routine. They offered me an opportunity to get a "complimentary" flu shot, which turned out to be a great convenience. Because I have a history mitral valve problems, a flu shot is highly recommended and I take my health very seriously.
Upon arriving at  a CVS, not too far from my home…I had to check in on the Minute Clinic computer in the waiting area. It was easy enough, but I could see, where it could be a problem for elderly folks, who may not have computer skills.
Five chairs were available in the waiting area. This was a good sign…it meant that they do not anticipate lengthy wait times so no need for too many seats.
My computer sign-in screen notified me, there were five people ahead of me…good information to share as it established a time frame. The nurse also told us, a few people were there only for flu shots and another nurse was expected back from lunch shortly, so the wait would not be too long.
I breathed a sigh of relief, as I had to be at school pick-up in an hour.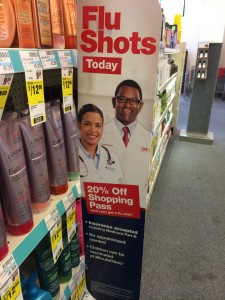 When it was my turn, the Nurse Practitioner reviewed the questions and answers from my computer profile. I signed my consent, got my vaccination, my receipt and was quickly on my way to school pick-up.
I was also given a 20% off coupon for CVS, which I will use on another visit.
This was my first time at a Minute Clinic. It was clean, efficient and friendly. I felt confident with my Nurse Practitioner. She was young, competent and nice. Since I am a nurse, it is my practice to "interview" nurses that take care of me
The real measure of a successful experience is whether or not I would feel comfortable coming to a Minute Clinic for medical care in the future ?… the answer…without reservation, YES.
Would I recommend getting a flu shot this year?..YES…for sure.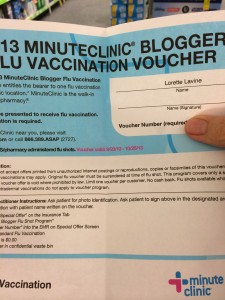 Disclosure:
I was given a "free" flu shot from Minute Clinic…all opinions are my own as always.