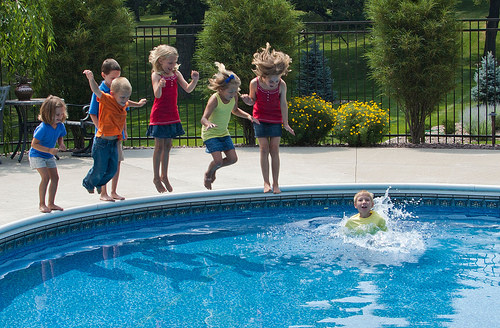 I have read this before but every summer it really is something that I read over again to refresh my memory of how easy it is for anyone to drown even when there are a lot of people around…like in a crowded pool with lifeguards present.
If you and your children are around water in the summer months please take time to review what drowning actually looks like…it can be a very quiet, silent accident. When your children are in the water they need your attention…so it is not a time to be on a cellphone or to be in a deep conversation poolside.
Little ones can drown so easily and get into trouble in the water so quickly that taking your eyes off of them even for a second can make a dangerous difference in being able to rescue them or not.
Review water safety with your children and have a safe summer.
The new captain jumped from the deck, fully dressed, and sprinted through the water. A former lifeguard, he kept his eyes on his victim as he headed straight for the couple swimming between their anchored sportfisher and the beach. "I think he thinks you're drowning," the husband said to his wife. They had been splashing each other and she had screamed but now they were just standing, neck-deep on the sand bar. "We're fine; what is he doing?" she asked, a little annoyed. "We're fine!" the husband yelled, waving him off, but his captain kept swimming hard. "Move!" he barked as he sprinted between the stunned owners. Directly behind them, not 10 feet away, their 9-year-old daughter was drowning. Safely above the surface in the arms of the captain, she burst into tears, "Daddy!"

via Rescuing drowning children: How to know when someone is in trouble in the water..