Measles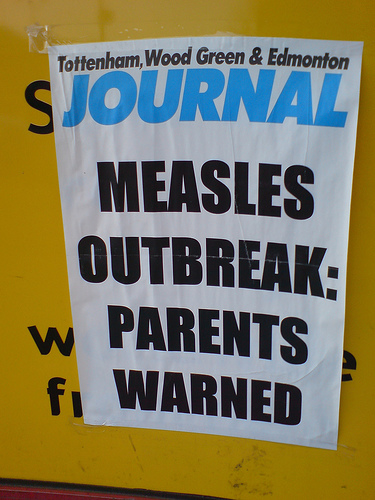 Are you and your family immunized against measles.

At last count, there were 78 cases in 11 states. Most of those cases originated at Disneyland or Disney's California Adventure theme park.
What should you do?
If you are NOT vaccinated or your child is under12 months old:
Stay away from places where large numbers of people congregate.
If you are vaccinated you do not have to worry and it is safe to visit airports, shopping malls and tourist attractions.
The only way to protect yourself is vaccination. Women who are trying to get pregnant should check with their health care provider to see if they are immunized. Wait one month after the MMR vaccine before trying to get pregnant. If you are pregnant get the MMR after you give birth.
Last year, the U.S. had a record number of measles cases.

As many as one in 20 children with measles develop pneumonia. This is the most common cause of death from measles in young children, according to the CDC. Children under 5 and adults over 20 are at higher risk for getting complications from the measles virus, including hospitalization and death.
As a nurse, I am a pro-vaccine professional for many reasons. I simply believe in medical research and do not want herd immunity to disappear, which protects those children and people, who have diminished immune systems and cannot receive vaccines.