This post is sponsored. Thanks for supporting Parenting in the Loop.

Step and Go Travel System by Safety 1st
by Adrienne Lavine
So excited to have a stroller delivered, a big thank you to Step and Go by Safety 1st. I could not be more pleased!  Since my baby is due in a few days it is very timely.
Even with my hands full with our bundle of joy or a bundle of his stuff, the Step and Go will be easy to open so that we can be on the move with one step of the pedal. Not only does the "travel system" open up easily but it folds and locks with only one quick pull and then it conveniently stands upright on its own in the folded position. It's so smooth to push around and has both baby and his parents in mind with the design.
The Step and Go includes a tray with two cup holders, a roomy storage area, and a super comfortable  grip/handle to keep hands at ease while pushing it. With one click the car seat is attached to the stroller base.
The infant car seat is perfect for traveling. It has side impact protection and an infant insert that keeps baby snug as a bug and safely secure within the harness system.
The travel system from Safety First can also be easily maintained, the seat pads can be thrown into the washer and dryer for convenient cleaning…really a great thing for us moms and dads too.
Here are the features in a nutshell.
Step to open design. You can open it with a simple step on the pedal.
Side Impact Protection.
Adjusts as baby grows from 4-35 pounds with center front adjust harness.
Five different angle choices makes it easy to get the right fit for your car.
There is a Carry Curve handle for carry lightweight comfort.
Quick Click allows the seat to attach easily onto the stroller with ONE click.
Keeping in contact with our baby will be easy through the large peekaboo window in the large hood which also has an extendable sun visor to keep baby protected from the harmful rays of the sun.
Daddy-to-be along with me and our son are excited for the ease of the Step and Go mobility with the least amount of hassle. Our son will be riding in style whether in the car or in town in his Capri colored Step and Go Travel System.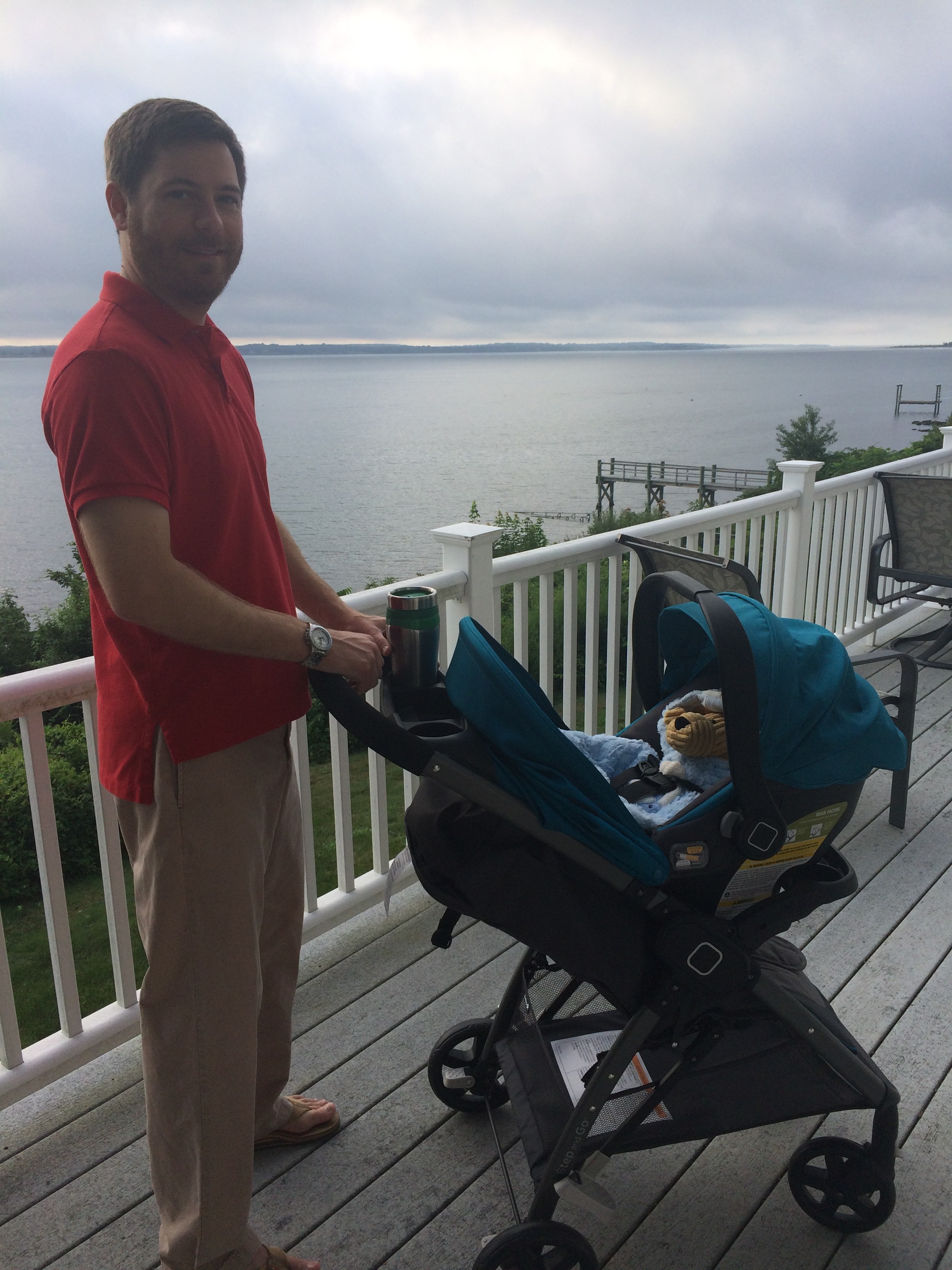 Thanks Step and Go from Safety First for providing this travel system to us.
We are currently on "baby watch" so it will not be long before our son will be enjoying this great stroller travel system with us!
P.S. The Grandparents are really excited about the Step and Go too…it is so easy even they can manage it…great for when they babysit.
This post was sponsored by Safety First and we were given a Step and Go Travel System for review purposes. As always all opinions are our own.