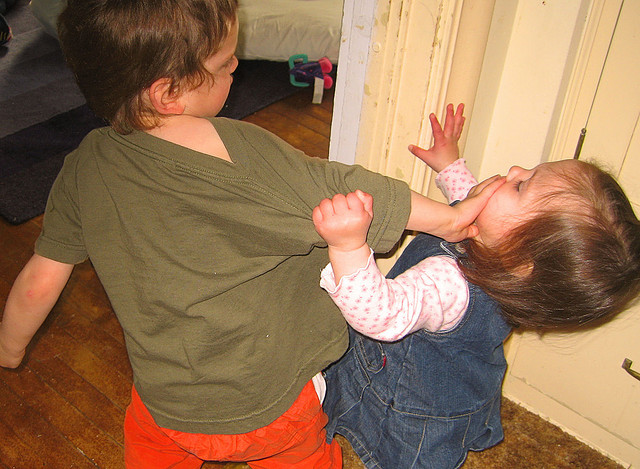 Yesterday, I witnessed a very disturbing scene in an urban playground.
It was a beautiful fall afternoon in Chicago, at a playground nestled among the skyscrapers near Millennium park.
Our extended family was there with the youngest among them, a 2 year old little boy and 4 year old little girl. Both, fortunately, remained oblivious to the inappropriate activity encouraged by the parents and nanny of two seemingly unrelated boys.
The young boys seemed to be around 7 or 8 years old…one was several inches shorter than the other but they were evenly built….they were "duking it out" in the middle of the playground.
At first the other "parents" yelled at them to "cut it out" and "stop", but the boys seemed intent on throwing punches and kicks to the body and groin paying no attention to the bystanders.
I watched somewhat in horror…especially when I noticed one boy's parents watching and encouraging their son in this activity. They were not phased by any of the other parents' comments.
I realized the taller boy was there with a nanny and toddler sister when he ran to his sister's stroller to grab his sword out of its sheath. The nanny quickly took it away but sent him back into the "ring". This was probably the only appropriate adult behaviour that I witnessed.
Finally…I could not contain myself as I watched this scene unfold and I approached the dad…
"Do you speak English?"…I asked.
He mumbled…that he did. I then told him, that what he was doing was inappropriate and that other children in the playground should not be made to witness this…his response was …"then don"t watch"…I then said that we could not help but witness the fighting, and this was a "playground" where we teach our children not to fight.
At that point, I walked away and approached the nanny, who was also just watching from another vantage point…I essentially told her the same thing and said that it was shameful of her to encourage this activity.
The nanny gathered the boy fighter and little girl and quickly left the playground…then other couple hung around watching their son play nicely with some other kids on the playground equipment .
I am still processing this scene and wondering if what I did really mattered…no other parents stood up to this man…did this mean that they were not appalled or was it urban apathy and "don't get involved" that was playing in their heads?
I will never know for sure…but what I do know is that I basically stood alone facing this dad…speaking my mind…and I would probably do it over again.
What would you have done if you witnessed an activity like this at a playground?
I felt like I was watching a "dog fight"…and I had a flashback of an episode of "Law and Order SVU" where a child died of a ruptured spleen under suspicious conditions.
It was later found that the young boy was encouraged to fight by his dad and there were other dads, who brought their boys to a group at night in a park and set them free to fight…it was a disgusting show… but now I realize it seems that it is all too real.