I am going to the MOM 2.0 Summit this coming weekend and yesterday I went shopping  to get my fashions ready for Miami.
Now as you know, if you read my blog…I am a grandmother so finding fashions that do not look like me trying to be my daughters' wannabe but still trying to be comfortable for my age and somewhat in fashion is not easy these days.
Yesterday, I went to Chicago for a meeting which unfortunately fortunately was cancelled…turns out it was the perfect day to shop. All the spring and summer fashions were tempting me and my upcoming trip to Miami was all the excuse I needed to get out my charge card and begin my own seasonal make-over.
I find that Eileen Fisher really speaks to my style…it does not speak to my daughters but so be it. I have learned to deal with their criticism and my own comfort.
Eileen Fisher's window displays beckoned me into their Water Tower Store.
I was greeted and helped by Kris…she put together the perfect travel wear for Miami…comfortable…mix and match…fun casual pieces for daytime meetings with of course a little glitz for the evening at the Versace Mansion.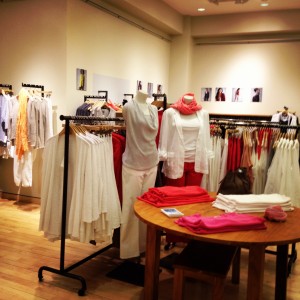 Eileen Fisher has managed to make clothes that are comfortable, stylish and made of natural fabrics. She has the perfect shoes and accessories to give any outfit that extra pizzazz.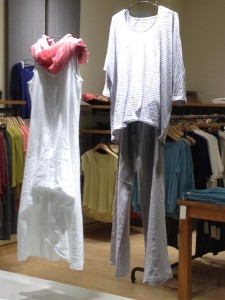 Her stores have great dressing areas with plenty of room to indulge in trying on everything that appeals to you. The staff lets you have enough privacy to make selections on your own without any pressure, just gentle guidance if you request it…I love their attention… yet they do not overwhelm you with too many choices.
I had a wonderful day…and am ready for MOM 2.0.
Bring it on.
I was not compensated for this post…all opinions are my own.