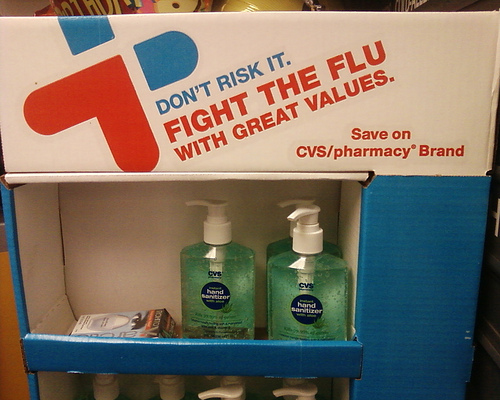 This is "flu" season and you can become very sick …it is epidemic in some cities. Even if you have had a flu shot you can come down with Influenza symptoms that were not covered by the "flu vaccine".
Here in Chicago, some of the hospitals are having to turn people away from their emergency rooms and send them on to another hospital for care due to so many cases of flu.
CVS Minute Clinics can offer you the flu shot if you have not already had one…it is not too late!
CVS Minute Clinics are in many states throughout the country.
Here in Chicagoland, they are clinically affiliated with Advocate Healthcare and are staffed with nurse practitioners and or physician assistants…there may be a Minute Clinic that is convenient to you.
You do not need an appointment and your insurance may cover your visit…if you do not have insurance Minute Clinics accept several forms of payment including credit cards.
If you find yourself in need of vaccinations, a physical, wellness screen or treatment for common family illnesses, you might consider CVS Minute Clinic…if there is one available near you. Their website can also give you information and perhaps answer any questions you might have before you visit a Minute Clinic.
MinuteClinic walk-in medical clinics are staffed by nurse practitioners and physician assistants who provide treatment for common family illnesses and injuries, administer vaccinations, conduct physicals and wellness screenings, and offer monitoring for chronic conditions.

Our practitioners can:

Diagnose, treat and write prescriptions for common family illnesses such as strep throat, bladder infections, pink eye and infections of the ears, nose and throat
Provide common vaccinations for flu, pneumonia, pertussis, and hepatitis, among others
Treat minor wounds, abrasions, joint sprains and skin conditions such as poison ivy, ringworm and acne
Provide a wide range of wellness services, including sports and camp physicals, smoking cessation and TB testing
Offer routine lab tests, instant results and education for those with diabetes, high cholesterol, high blood pressure or asthma

Most services are available for those age 18 months and older, but ages for specific services may vary. To see services available and age restrictions in Massachusetts, click here.

Please check the individual service, and read the following "what to know" sections before your visit.
| Symptoms | Cold | Flu |
| --- | --- | --- |
| fever | rare | usually present |
| chills | uncommon | fairly common |
| tiredness | mild | moderate to severe |
| onset of symptoms | appear gradually | can appear within 3-6 hours |
| coughing | hacking, productive cough | dry, unproductive cough |
| sneezing | common | uncommon |
| stuffy nose | common | uncommon |
| runny nose | sometimes | common |
| sore throat | common | uncommon |
| general aches/pain | slight | common, often severe |
| chest discomfort | mild-moderate | often severe |
| headache | uncommon | uncommon |
Disclosure:
I was not compensated in any way for this post…all opinions are my own.
Of course, if you are seriously injured or ill you would want to call 911 or visit your nearest Emergency Room.
Links: