Anyone who knows me, knows that I love my Irish heritage,
and
I fell in love with Ireland on my first visit there about 15 years ago.
I thought my grandmother was in the kitchen when I visited Dublin and shared my first Irish breakfast with my family.
It was like I was a little girl again, sitting at the dining room table watching my grandmother cook breakfast in our small NY kitchen.
My husband and I have visited Ireland several times and have especially enjoyed the warm Irish hospitality and Irish cooking.
So when I came upon Nessa Robin's blog, I was in heaven.
I baked her Easter cake for my family.
Again, I was treated to a taste from my childhood when my Nana used to bake a cake from "scratch" and frost it with chocolate glaze.
Now, Nessa has published a cookbook, 'Apron Strings'. She has successfully shared her family recipes along with her personal and professional remedies.
A nurse, Nessa currently is a SAHM raising her family and blogging about her life as a wife, mother, daughter, and now a cookbook author.
'Apron Strings' is beautifully written and Nessa's photos make me feel like I am in the kitchen with her and her family.
I love a cookbook that is personal and that shares the stories behind the recipes, Nessa does just this.
She feels like a friend giving me a recipe.
Nessa has made me want to travel back to Ireland and visit the Irish countryside that has inspired her.
See for yourself…have a look at 'Apron Strings'.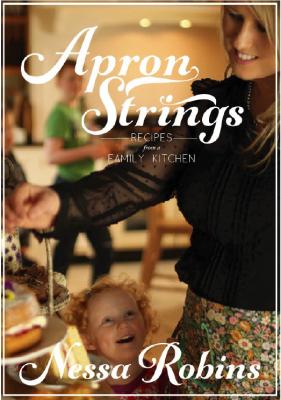 Disclousre: I was given a copy of 'Apron Strings' for purposes of this review.
Book Reviews:
A few of my favourite things | Carolanne's Kitchen.
One of our absolute favourite blogger's kitchens to visit is the warm and inviting 'Nessa's Family Kitchen' which is lovingly filled with beautifully taken photographs of family and food, delectable yet doable recipes and best of all is as a busy mum to four children, Nessa knows the limitations and demands placed on a mum's kitchen.

Book review: 'Apron Strings' by Nessa Robins | MummyPages.ie – mummypages.ie.