Finally Daylight Savings is here!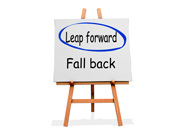 This popped up in my email today from Jen and Jill at Sleepy Planet. They are two of the best people I know to help parents and kids with sleep and Daylight Savings is one of those times.
Spring Ahead Without

Falling Behind on Sleep

Daylight Savings this Sunday, March 8

Before bed, turn clocks ahead 1 hour.  If your child normally sleeps till 6:30 AM, the next morning she will likely sleep till 7:30 AM.  Her entire schedule – naps and bedtime – will then shift one hour later.

If you're happy about this change, great!  Just protect her room from too much light in the early morning (use room-darkening shades if necessary), and use white noise so she won't wake with the birds.

If you'd rather help your child get back to her usual schedule, try the following:

1.  Put your child down at her regular bedtime, say 7:30 PM, on Saturday night.

2. Set your alarm for 6:30 AM (according to the new clock) and wake your child at this time.  To her, it will feel like it's 5:30 AM, but don't worry.  She'll be tired, but she'll adjust.

3.  If your child naps, put her down at her normal nap time according to the new clock and resume a normal schedule from there.  Don't allow her to nap longer than usual.

4.  On Sunday night, put her down at her usual bedtime according to the new time.

Excerpt from The Sleepeasy Solution: The Exhausted Parent's Guide to Getting Your Child to Sleep — from Birth to Age 5.
Happy Daylight Savings!